June 5th, 2019
To those of you who are plein aire painters, DO NOT BUY the Soho Mahogany easel from Jerry's artarama. It is made from insubstantial materials (not Mahogany as titled) and broke twice in the first day. They would not take it take it back and claimed the pictures I have provided do not show any sort of manufacturer defect.
August 18th, 2014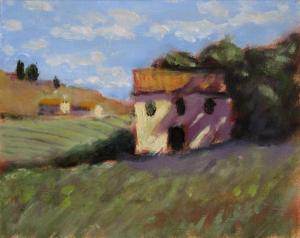 I am torn between what is painterly execution and what is a photographic resolution of an image. If I look at the great painters (historically) I am reminded of August Renoir, one of the great impressionists.

If we think of him in context with Monet, Sisley,Caillebote , and Pisarro, his work is loose,interpretive, and very painterly. Although he rarely painted plein aire, it is not until his later works that we see his conflict (much like mine)... his great regard for the Classical period of French Painting that included Ingres and Gerome, pushed him to polish his work and create his neoclassic pieces.

We consider the work of Degas to be an impressionist, but it is more from the time that he painted and shared exhibitions with his contemporaries, than his approach or working philopsophy.

While I studied with Philip Pearlman, and met and much admired the works of Gabriel Ladderman and Alfred Leslie, I leaned away from polish and deliberation, and became swept up in execution and bravura.I think it becomes more pronounced the older we get, due in part to impatience, and acceptance of of who we are and what we want to accomplish. This is not necessarily a lowering of standards. Look at the mature painting style of Matisse, and then the fact that he had to go to cut paper to express his working ideas. I still look at the more polished works (Philip always called them slick) often with admiration, sometimes with jealousy, not often with scorn.

I recommend that you viewt the works of Brad Stevens and Mike Francis (you will have to google them), two of my college peers. I shared a studio with both of them and perhaps you can see their influences on my work, or vice versa. We all studied and worked closely with Bill Woodward, one of the giants of our time.
August 2nd, 2014
I have spent many years painting, and often wonder who is leading whom...am I following my art or is my art following my whims?

In this day of limited resources we (professional artists) find the paintings we create are more market driven then ever. If the public isn't buying what will we do with our work? How can we afford to replenish the scarce resources we have? Where can we possibly store another 30-40 new pieces for a show that flopped? So by some conscious method we arrive at what WE think will sell and pursue this. Whether it is rainbows and unicorns or power trucks (or in my case cows) the handle gets cranked and out come the pieces. Sometimes the choice is naive and sometimes very sophisticated, and sometimes the decision is not the message so much as how it is conveyed. Will we paint like someone else (Look at our heroes-Monet,or Kinkade or Gene Davis or Sven Birger) ? Are we determined to offer the color driven image or the photographic one? I have truly tried all I could in my career. Some of it is eagerly fashioned with borrowed chops, some of it is the result of soul searching or even the idea of breaking new ground. I look at my work and see deficiencies in color, or application,or procedures hoping to find a different finished work. I have an inkling that it is the PROCESS that is important to the artist, much more than the finished effect. We are all a work in progress, with refinement as our tool of choice.

One of the truly mysterious characteristics of the buying public is the idea that bigger has to cost more, and of course, smaller must cost less. Regardless of time spent on a work, or the very nature of a one-of-a-kind valued piece, we are forced to either follow the dictates of the market, or put a big,fat NFS on something. I know that my recent creations have become very market driven, to the point that I will create for the PRICE POINT (size=cost) and end up with little paintings that somehow consume as much time as the bigger ones (and sometimes even more!) In working very small we are constrained to do what our bodies will allow us, and small mistakes are so much harder to overcome. We all need to make some money, whether it is from our art or somewhere else. But we also need to have the ability to accept the shortcomings with the successes. I usually love each piece for about a day, and then retreat to dissatisfaction. Some do stand the tests of time and are acceptable, but I have learned to be content with the journey and not the destination. If I am not setting the world on fire with my work, at least I am trying my very best every time, and if I don't have a clue how each piece will look when I finally surrender, I remember we don't go to the movies 'cause we know how it will turn out at the end.

I am gratified and flattered that so many people view my work and give me the thumbs up. When I compare it to the greats and I feel less than (ALWAYS!!!) I have to remember it is not an absolute. Art is personal to both the creator and the spectator, and what we feel ashamed of somone else could be proud of it. It is always the message between two people, regardless of the size of the audience.

Saturday,August 2,2014
June 28th, 2014
I get a lot of "views" from the same location. like Chicago,IL and they are in such frequency that the views are listed as 7:25,7:25 and 7:25.
Does anyone know what this signifies? Is this an automatic download or notification? If I post an image at 1am or 7pm or 3 pm it happens regularly. This is mostly just curiosity, as I don't know if there are several viewers from the same locale(very unlikely) or is it the same person viewing up AND down, my recent submissions. On the other hand I would like to acknowledge my fans and supporters, especially those who go out of their way to view my work. Whoever you are, THANK YOU and please come by whenever you can.
June 25th, 2014
this is not a rant, but I have somewhat of a problem with the equality of the playing field of ARTISTS vs. PHOTOGRAPHERS.


I would be one of the first to affirm and recognize photography as an art form. Think of the greats.... Ansel Adams, Henri Bressai, the Westons,Dorothea Lang to name a few. The amount of work involved in getting from inspiration to print took not only hours and days but tons of equipment. Darkrooms, enlargers, chemistry-a tremendous investment, to say nothing of the loss from bad prints or underexposed film,plus the time and the waiting process. The technological innovations today make everyone an outstanding photographer and have raised many thousands of people to a celebrated level. Just by snapping the shutter.It took years for the greats to perfect their craft, and and to develop an understanding of multiple complex and difficult segments of this process. It would do well for these photo people to look hard and long at some of the paintings on the webs here; not a one of them was achieved with the instantaneous snap of a shutter. The work and achievement of many of these people is astounding and is taken for granted by most of the spectators on this website. even what many consider to be primitive or naive work is a collection of discipline and hours of execution for each and every piece. Not ten minutes of photoshop. So think twice when you start thinking of dissing some art that doesn't compare to your liking of a photo

This is why I stringently restrict photography from contests I facilitate, and why I gladl;y start a second or third contest exclusively for photography
June 10th, 2014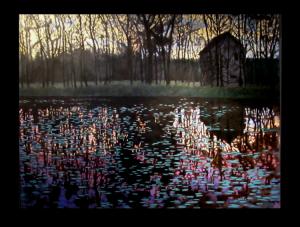 I wanted to thank everyone who has viewed my work, and those few who have commented. I must have wonderful people who view my work on such a consistent basis. The Locales are ALWAYS listed in the "views" and I would hope that they are repeaters (like New Your,New York, or Chicago-each has millions of viewers!). I am sorry I did not find FAA before, but they say you are only late your first time. I try to post 5 additional paintings every day, so the selection is always changing and expanding. My archives represent at least 4 different technologies, slides,digital floppies as well as sd chips,and photos, and span over 40 years of documentation. I am anxious to share with all of you. As many of you are aging boomers like me, this may be the only opportunity for a 'retrospective'. I am seriously doubtful I will ever achieve the notoriety or recognition to demand a lifetime review, but if I work at this long enough, I can share it with all of you. i love your comments but sometimes look for a more critical approach. If you don't like something, or it seems weak or less than, let me know. It is not insulting to tell me,it is engaging and lets me know we have a connection . Also, if you're visiting my pages, leave me a note or a comment, if only your name and location. I am sorry we don't have a guest book, for signing in, but I yearn for some way to connect. Again thanks for the indulgence

David Zimmerman